The Ethiopic language
Ethiopic, or Ge'ez, a Semitic language of the South Semitic language branch, has been the by far most important vehicle of written knowledge throughout Ethiopian history until the nineteenth century. It is still used as the language of liturgy in the Ethiopian Orthodox Tawahedo Church.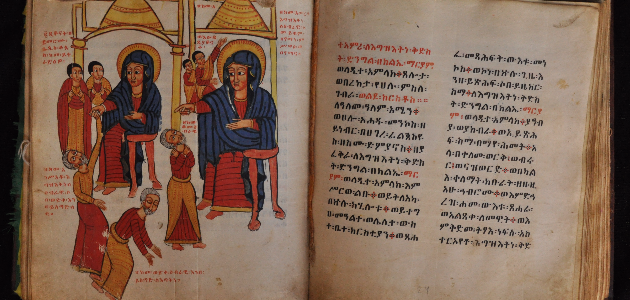 It is written in a script (fidal) deriving from the Epigraphic South Arabian abjad (consonantal script), with several innovations. The consonants are vocalized by attached diacritical marks (there are seven vowel orders, a u i ā e ǝ o), making the script an abugida (syllabary). The numerals (፩, ፪, ፫, etc.) have been adapted from (Byzantine) Greek numbers in the first centuries AD.
See the TraCES project page for the information on some ongoing research on Ge'ez at HLCES.