Background
Writing was adopted by the Semites settled in the area between the northern highlands of the Horn of Africa and the Red Sea, corresponding to the present-day states of Eritrea and Ethiopia, the northern Tegrāy region of the latter in particular, as early as the first millennium BCE.
The existence of an extensive Christian literature going back presumably to the fourth century CE, consisting mostly of Christian biblical and patristic texts translated from Greek, certainly implies the existence and use of manuscripts. Yet, our witnesses for the first centuries CE (the so-called Aksumite period) are mostly inscriptions, in Greek, Sabaean, and, since the second and the third centuries CE, Ethiopic. The Ethiopic language (Geʿez) and the vocalized Ethiopic script as they appeared by the fourth century, on the eve of the Christianization of Aksum (mid-fourth century), are, apart from certain specific features, very near to the language and script used later on for centuries as the literary language of the Christian kingdom of Ethiopia.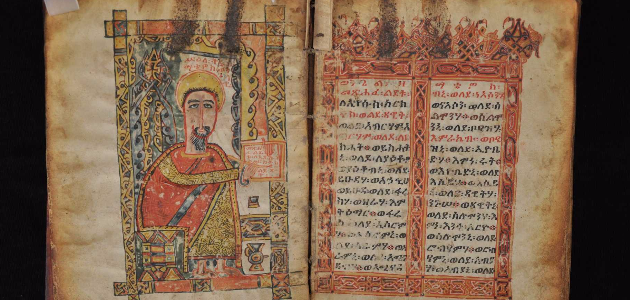 Two extant codices (the so-called Abbā Garimā Gospel manuscripts) are believed to date back to the Aksumite time, and just a few date back to the period before the thirteenth century. The overwhelming majority of the known manuscripts (codices, scrolls, and occasionally other book forms) date from between the fifteenth and nineteenth centuries.